Ken Lalli - Owner and Head Coach

Grand Slam Samurai College "Select" Wood Bat Team
Head Coach: Ken Lalli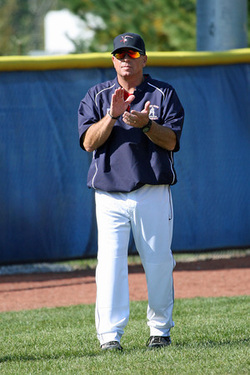 Ken Lalli is a graduate of Brockton High School and played 4 years for the Boxers. He then went on to play at Massasoit Community College. As captain he led the league in Home Runs and RBI's. He was named to the All New England Baseball Team 2 years in a row. Ken also played at Sacred Heart University in Connecticut where he again led his team as captain in HR's and RBI's and was selected to the NCAA All-Conference and All-New England All-Star Team. Ken finished his playing career for the semi-pro Brockton Merchants.

Ken is currently Head Coach of the Coyle & Cassidy Varsity Baseball Team. He is also Head Coach of the Grand Slam Elite 18u College Bound Baseball Team. Ken also works as an Associate Scout for the MLB Seattle Mariners and he is the Director of Scouting for The New Bedford Bay Sox in the NECBL ( New England Collegiate Baseball League ) Ken spends endless hours at the Grand Slam Hitting Club and on the baseball field sharing years of experience with younger players.

Ken lives in Lakeville with his wife Kathy and 2 children Jennifer and Andrew.

---